Ronnie Lane - Just For A Moment: Music 1973-1997 (2019)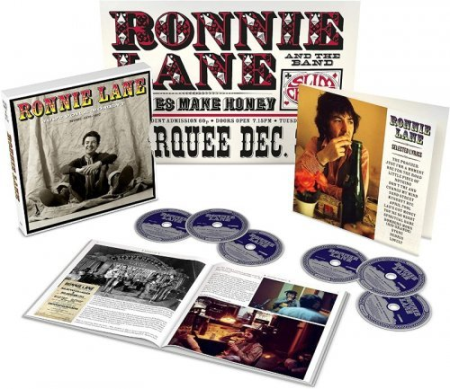 MP3 320 / FLAC (*image + .cue,log) | 7h 33 min | Genre: Rock, Folk, Country Rock | 1.1 / 3 GB
UK six CD set including book of lyrics and an A2 fold out poster. Packaging - 6 discs housed in a hard back book with outer slipcase. This box includes Ronnie's 4 solo albums - Anymore For Anymore (+ singles), Ronnie Lane's Slim Chance, One For the Road and the cruelly underrated See Me. In addition it features tracks from Ronnie's Mahoney's Last Stand album with Ron Wood and Rough Mix with Pete Townshend. The final disc of the set focuses on Ronnie's in the US with live highlights and studio tracks never previously released. The set also featured lots of rare and unreleased material - be prepared to here fantastic cover versions of The Wanderer, Rocket' 69 and The Joint Is Jumpin' as well as unheard Ronnie compositions plus live recordings, tracks for the BBC and highlights from a legendary Rockpalast concert. The set is curated by long musical associate of Ronnie's, Slim Chancer musician Charlie Hart. Comprehensive sleevenotes focus on Ronnie the musician, the songwriter, the collaborator and split the post '73 period into three distinct parts . Writers are Paolo Hewitt, Kris Needs and Kent Benjamin covering Ronnie's Austin years.
The elfin bassist/vocalist/songwriter Ronnie Lane often operated in the shadow of a bigger, more boisterous personality (Steve Mariott in the Small Faces, Rod Stewart in the Faces), but his work in both those bands and as a solo artist was that of an almost mystically good-natured and warm musician. Whether delivering rollicking rock & roll, digging into various folk traditions, or telling rambling tales in his slightly worn, always heart-felt voice, Lane crafted music that will stand the test of as well as any made by the Small Faces, the Faces, or Rod Stewart. Just for a Moment: Music 1973-1997 is a post-Faces career-spanning box set that cements Lane's status as one of the great songwriters of the '70s and is a treat for anyone who loves the era when country, rock, folk, and soul got all jumbled up in an organically laid-back fashion. It collects the four studio albums cut under his name and with his band Slim Chance (1974's Anymore for Anymore, 1975's Ronnie Lane's Slim Chance, 1976's One for the Road, and 1980's See Me) along with songs recorded with Pete Townshend for 1977's Rough Mix record, numerous BBC sessions, previously unreleased demos, singles, live cuts, and a disc of songs recorded near the end of his too-brief life when he relocated to the U.S. in search of a cure for the MS that afflicted him. The studio albums are all wonderful and full of examples of his shaggy-dog storytelling on loose and lively songs that sounded made up on the spot, as well as carefully crafted ballads that could crack the heart of the toughest customers.
Lane was truly a versatile writer within his niche, and his range was impressively wide: stretching from cheerful acoustic rockers ("How Come") to majestically epic tales ("The Poacher"), spiritually nimble bluegrass ("Stone") to insistent folk rock ("Anniversary"), and corny old- standards ("Brother, Can You Spare a Dime?") to tear-stained down-home balladry ("Annie"). His run of albums didn't last long as he was hindered by low finances and bad luck, then cut down by illness in the early '80s. Lane kept playing live after he fell ill, though, and the fifth disc of the collection gathers up sets recorded in the early 80s; the sixth details his years in the U.S. in the late '80s and early '90s as he struggled physically but was still able to perform with the same easygoing brio and charm as always. His voice may be a little rough around the edges, but the songs are great and the band is game. The final studio session Lane recorded is here, too, and while it's a little lacking in polish, he could still come up with a fine melody as "Hearts of Oak" proves.
Just for a Moment is put together with a great deal of care and rewards careful study while also filling hearts and souls with warm feelings as the mandolins tinkle, the guitar merrily strums, the drums lope along, and Lane presides over it all like a magical ringleader clad in a shabby top hat and a beatific smile. It excavates all kinds of worthy rarities that fit perfectly next to the songs Lane fans already know and love and stands as a fitting tribute to a somes unsung hero of '60s and '70s rock & roll.
~ Tim Sendra, All Music
Disc 1: ANYMORE FOR ANYMORE (1974)
01. Careless Love (Ronnie Lane) 4:11
02. Don't You Cry For Me (Ronnie Lane) 4:27
03. Bye and Bye (Gonna See The King) (Ronnie Lane) 5:51
04. Silk Stockings (Ronnie Lane and Kevin Westlake) 1:47
05. The Poacher (Ronnie Lane) 3:46
06. Roll On Babe (Derrold Adams) 3:21
07. Tell Everyone (Ronnie Lane) 3:01
08. Amelia Earhart's Last Flight (Red River DaveMcEnery) 3:38
09. Anymore For Anymore (Ronnie Lane and Kate Lambert) 3:45
10. Only A Bird In A Gilded Cage (Harry Von Tilzer) 1:04
11. Chicken Wired (Ronnie Lane) 4:26
Bonus Tracks:
12. How Come [Single Version] (Ronnie Lane and Kevin Westlake) 3:09
13. Done This One Before [Single B-Side] (Ronnie Lane) 3:32
14. From The Late to the Early [Ronnie Lane and Ron Wood] (Ronnie Lane and Ron Wood) 3:42
15. Just For A Moment [Ronnie Lane and Ron Wood] (Ronnie Lane and Ron Wood) 2:54
16. How Come Alternate [Alternate Take] (Ronnie Lane and Kevin Westlake) 3:57
17. Ooh La La [BBC John Peel Session 11/12/1973] (Ronnie Lane and Ron Wood) 3:17
18. Debris [BBC In Concert 23/04/1974] (Ronnie Lane) 6:28
19. Flags and Banners [Live at the Thames Hotel 11/12/1973] (Ronnie Lane) 4:34
20. Last Orders [Live At The Thames Hotel 11/12/1973] (Ronnie Lane) 3:50
21. I'll Fly Away (Ronnie Lane and Ron Wood) 0:33
Disc 2: RONNIE LANE'S SLIM CHANGE (1975)
01. Little Piece Of Nothing (Ronnie Lane) 2:24
02. Stone (Ronnie Lane) 4:06
03. A Bottle of Brandy (Isaacs Family) 2:47
04. Street Gang (Ronnie Lane, Ruan O'Lochlainn and Steve Simpson) 4:04
05. Anniversary (Ronnie Lane) 2:58
06. I'm Gonna Sit Right Down And Write Myself A Letter (Fred E. Ahlert and Joe Young) 2:54
07. I'm Just A Country Boy (Fred Brooksand Marshall) 2:43
08. Ain't No Lady (Kate Lambert, Ronnie Lane and Ruan O'Lochlainn) 4:22
09. Blue Monday (Antoine "Fats" Domino and DaveBartholomew) 4:07
10. Give Me A Penny (Ronnie Lane) 2:59
11. You Never Can Tell (Chuck Berry) 4:31
12. Tin and Tambourine (Kate Lambert and Ronnie Lane) 4:11
13. Single Saddle (David / Altman) 2:04
Bonus tracks:
14. Brother Can You Spare A Dime? [Island Single] (Jay Gorney and Edgar "Yip" Harburg) 2:10
15. What Went Down (That Night With You) [Island Single] (Ronnie Lane) 3:28
16. Lovely Single [B-Side] (Ronnie Lane) 3:27
17. Roll on Babe [BBC Live In Concert 13/12/1974] (Derrold Adams) 4:01
18. Sweet Viia [BBC John Peel Session 19/11/1974] (Mick Jagger & Keith Richards) 4:08
19. Walk on By [BBC Live In Concert 12/02/1976] (Leroy Van Dyke) 4:44
20. You're so Rude [Live Victoria Palace 16/03/1975] (Ronnie Lane and Ian Maclagan) 3:37
21. From The Late To The Early (Lost) / How Come [Live Victoria Palace 16/03/1975] (Ronnie Lane and Ron Wood) 6:44
22. What Went Down (That Night With You) [Island Single Outtake] (Ronnie Lane) 3:09
Disc 3: ONE FOR THE ROAD (1976)
01. Don't Try 'n' Change My Mind (Ronnie Lane) 3:06
02. 32nd Street (Ronnie Lane) 4:35
03. Snake (Ronnie Lane) (Ronnie Lane) 3:27
04. Burnin' Summer (Ronnie Lane) 4:07
05. One for the Road (Ronnie Lane) 4:46
06. Steppin' an' Reelin' (The Wedding) (Ronnie Lane) 6:27
07. Harvest Home (Ronnie Lane and Charlie Hart) 5:50
08. Nobody's Listening (Ronnie Lane) 3:55
09. G'Morning (Ronnie Lane) 4:03
Bonus tracks:
10. April Fool (Ronnie Lane) 3:32
11. Annie (Ronnie Lane, Kate Lambert and Eric Clapton) 2:59
12. Nowhere to Run (Ronnie Lane) 3:16
13. Silly Little Man (Ronnie Lane) 3:45
14. Catmelody (Ronnie Lane and Kate Lambert) 3:12
15. Last Orders (Well Well Hello) (Slow Version) [Fishpool Session] (Ronnie Lane) 4:19
16. Lonely [Fishpool Session] (Ronnie Lane) 3:09
17. Under My Nose [Fishpool Session] (Ronnie Lane) 3:46
18. Feeling Like A Lion [Fishpool Session] (Ronnie Lane) 5:04
19. Going West [Fishpool Session] (Ronnie Lane) 4:04
Disc 4: SEE ME (1979)
01. One Step (Ronnie Lane and Alun Davies) 3:37
02. Good Ol' Boys Boogie (Ronnie Lane) 3:34
03. Lad's Got Money (Ronnie Lane) 4:58
04. She's Leaving (Ronnie Lane and Alun Davies) 3:45
05. Barcelona (Ronnie Lane and Eric Clapton) 5:18
06. Kuschty Rye (Ronnie Lane and Kate Lambert) 4:11
07. Don't Tell Me Now (Ronnie Lane) 2:53
08. You're So Right (Ronnie Lane) 2:23
09. Only You (Ronnie Lane) 4:05
10. Winning With Women (Ronnie Lane and Kate Lambert) 4:09
11. Way Up Yonder (Traditional arranged by Ronnie Lane) 2:50
Bonus tracks:
12. Three Cool Cats See Me [Outake] (Jerry Leiber and Mike Stoller) 3:08
13. The Wanderer [The R 'n' B Sessions] (Ernie Maresca) 3:17
14. Rocket '69 [The R 'n' B Sessions] (Henry Glover and Lois Mann) 3:30
15. The Joint Is Jumpin' [The R 'n' B Sessions] (Fats Waller) 3:04
16. Annie Had A Baby [The R 'n' B Sessions] (Henry Glover and Lois Mann) 4:27
17. Pisshead Blues [Fishpool Sessions] (Ronnie Lane) 6:49
18. Barcelona [Demo] (Ronnie Lane and Eric Clapton) 5:25
19. Three Cool Cats [Demo] (Jerry Leiber and Mike Stoller) 3:14
Disc 5: LIVE + ODDS 'N' ENDS (1976-1981)
01. Rats Tales (Catmelody) [Live At Rockpalast 03/03/1980] (Ronnie Lane and Kate Lambert) 4:50
02. Flags and Banners [Live At Rockpalast 03/03/1980] (Ronnie Lane) 5:42
03. Annie Had A Baby [Live At Rockpalast 03/03/1980] (Henry Glover and Lois Mann) 5:54
04. How Come [Live At Rockpalast 03/03/1980] (Ronnie Lane and Kevin Westlake) 4:49
05. You're So Rude [Live At Rockpalast 03/03/1980] (Ronnie Lane and Ian Maclagan) 3:24
06. Lad's Got Money [Live At Rockpalast 03/03/1980] (Ronnie Lane) 6:03
07. Kuschty Rye [Live At Rockpalast 03/03/1980] (Ronnie Lane and Kate Lambert) 5:25
08. Man Smart, Women Smarter [Live At Rockpalast 03/03/1980] (Ronnie Lane) 5:29
09. Debris (Ronnie Lane's Big Dipper) [Live Capital Radio 29/05/1981] (Ronnie Lane) 5:53
10. Around The World (Grow Too Old) [Fishpool Sessions 1977] (Bobby Charles) 3:10
11. Last Night [Fishpool Sessions 1977] (Ronnie Lane) 4:03
12. All Or Nothing [BBC John Peel 15/01/1976] (Steve Marriott and Ronnie Lane) 3:15
13. Bombers Moon [The Merton Sessions Early '81] (Ronnie Lane) 2:36
14. Last Tango In Nato [The Merton Sessions Early '81] (Ronnie Lane) 3:40
15. Silly Little Man [Fishpool Sessions] (Ronnie Lane) 3:27
16. She's Leaving (I Can Hear Her Sig) [Demo] (Ronnie Lane) 3:35
17. Lovely [Outtake] (Ronnie Lane) 4:42
18. Rats Tales (Catmelody) [Fishpool Sessions] (Ronnie Lane and Kate Lambert) 3:08
Disc 6: THE US YEARS (1987-1992)
01. Ooh La la [Live In Austin, Texas 1988] (Ronnie Lane and Ron Wood) 3:54
02. Rio Grande (Bombers Moon) [Live In Austin, Texas] (Ronnie Lane) 3:18
03. Nowhere To Run [Live KLBJ Valentine's Day Special 11 February 1987] (Ronnie Lane) 3:28
04. Annie [Live KLBJ Valentine's Day Special 11 February 1987] (Ronnie Lane, Kate Lambert and Eric Clapton) 2:11
05. Buddy Can You Apare A Dime? [KLBJ December 1989] (Jay Gorney and Edgar "Yip" Harburg) 3:30
06. You're So Rude [Live at KUT 1988] (Ronnie Lane and Ian Maclagan) 2:30
07. Dirty Rice [Live at The Back Room Austin May 12 1987] (Featuring The Tremors with Bobby Keys) (Ronnie Lane) 4:09
08. Winning With Women [Live on KUT 1988 Outtake from Live in Austin] (Ronnie Lane and Kate Lambert) 3:17
09. Ooh La la [Live at The Back Room Austin May 12 1987] (Featuring The Tremors with Bobby Keys) (Ronnie Lane and Ron Wood) 3:39
10. Don't Try 'n' Change My Mind [Live In Japan 1990] (Ronnie Lane) 3:35
11. Glad And Sorry [Live In Japan] (Ronnie Lane 1990) 3:12
12. Just For A Moment [Live In Japan 1990] (Ronnie Lane and Ron Wood) 3:21
13. Spiritual Babe [Houston Demo] (Ronnie Lane) 3:57
14. King of the Lazy World [1992 Studio Session] (Ronnie Lane and Brad Brobisky) 3:32
15. Peaches January [Arlyn Studio Sessions 1989] (Ronnie Lane) 4:15
16. Sally Anne January [Arlyn Studio Sessions 1989] (Ronnie Lane) 5:39
17. Spiritual Babe January [Arlyn Studio Sessions 1989] (Ronnie Lane) 4:13
18. Hearts of Oak January [Arlyn Studio Sessions 1989] (Ronnie Lane) 2:35
19. Strongbear's Daughter January [Arlyn Studio Sessions 1989] (Ronnie Lane) 3:37
DOWNLOADuploadgigrapidgatornitroflare